By Stephen Spinelli.
Much of my 2018-19 academic year was spent preparing for a residency at the Museum of African American History on Nantucket Island with the Cornell Chamber Singers. Nantucket's Quaker roots brought about an early abolitionist culture, drawing Frederick Douglass to the island in 1841 for his first public address. In March of 2018, the museum's main site—the historic African Meeting House—was defaced with racist graffiti. I grew up spending summers working on the island, and for me this was a call for awareness, support, and the celebration of human diversity through song. My students and I spent our time on Nantucket, as well as the ensuing semester, exploring the evolution of the African-American spiritual from the oral tradition of enslaved peoples to the notated performance-style versions that most of us know today. While working through pages of sheet music written by men, questions about the role of Black women in the evolution of American concert music emerged. Through a series conversations with friend and fellow Cornell faculty member Tamara Acosta, one name kept emerging: Florence B. Price. A few months later, Dr. Michael Driscoll, a colleague from Boston, passed along a surprising document: a clipping from one of Price's diaries referencing communications with Cornell's department of music. To us, this was affirmation that there was more to discover.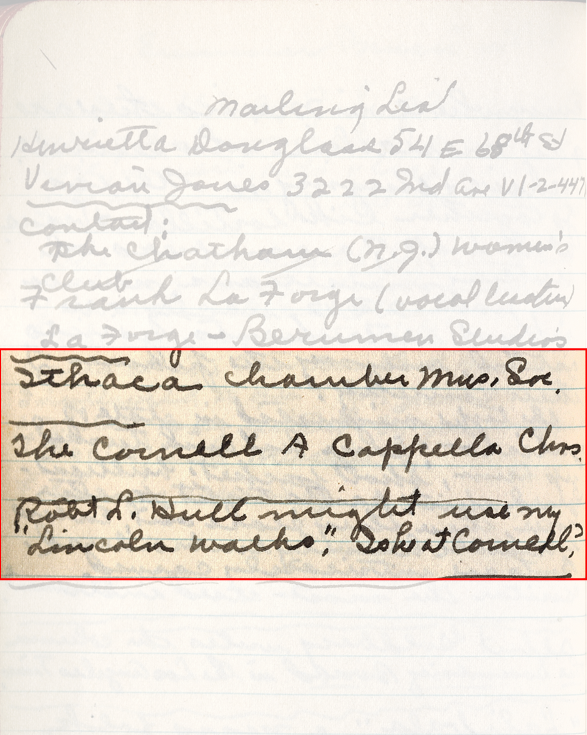 Born in Little Rock, Arkansas, in 1887, Price demonstrated musical talent from a very early age. She graduated as valedictorian of her high school at the age of 14 and was accepted to the New England Conservatory. At NEC she studied piano and organ, and was the only recipient of a dual degree in her graduating class. It was during this time that she began to demonstrate serious interest in composition, and NEC composition faculty member George Chadwick tutored her privately. It would be impossible to adequately summarize the ensuing years of Price's life, which are worthy of a Hollywood screenplay. When the Chicago Symphony Orchestra performed her Symphony in E minor in 1933, she became the first Black woman to gain a major symphonic premiere in the United States. When Marian Anderson took to the steps of the Lincoln Memorial to sing for a crowd of 70,000 onlookers in 1938, it was Price that she asked to arrange spirituals for the orchestra accompanying her. Despite extraordinary achievement in her lifetime, Price's legacy is conspicuously absent from our history books.
We began to conceive of a conference celebrating the life and works of Florence Price. The event was to take place from March 18-20, 2021, on Cornell's campus, culminating in a performance of Price's Piano Concerto in One Movement. This capstone performance was to feature the newly appointed Chair of Piano Studies at the Curtis Institute of Music, Michelle Cann, who for years has been championing Price's keyboard works. We learned that an orchestral manuscript of the work had been recently discovered, and this performance was to be among the first since in Price's original orchestration since her death in 1953. Following months of grant writing, planning, and dreaming, the unthinkable happened: the global pandemic. Students were sent packing, performances were silenced, and the doors to concert halls were shuttered. We took a deep breath and asked an important question: what can we do in this environment?
With an open mind, support from creative colleagues, and an increasing awareness of the importance of this work we formed a new concept: ONEcomposer. ONEcomposer is a celebration of musicians whose contributions have been historically erased. ONEcomposer provides a platform for the study, performance, and discussion of a single, underrepresented composer's life and legacy for the duration of an entire academic year, promoting a more complete understanding of musical histories. Though this work does not begin or end with the story of Florence Price, we are honored to hold her in the spotlight for the duration of the 2020-21 academic year.
Our evolved concept has opened unexpected doors for collaboration, partnership, and ongoing education. Our fall season of events highlighted Price's keyboard works and song repertory. Cornell PhD musicology candidate Anna Steppler provided a season highlight with her lecture recital on the large-scale organ works of Price. Our 2021 calendar began with a momentous collaboration between ONEcomposer and the Philadelphia Orchestra for the North American premiere of Price's previously cited Piano Concerto in One Movement, featuring Michelle Cann.
Michelle Cann and the Philadelphia Orchestra with conductor Yannick Nézet-Séguin. Photo: Jeff Fusco.
Upcoming events include a discussion of arts and entrepreneurship with metropolitan opera soprano Karen Slack, a piano masterclass with Ms. Cann, a special lecture from WQXR radio host Terrance McKnight, and a lecture-recital with the Curtis Institute of Music's Chair of Organ Studies, Alan Morrison, featuring Price's recently published Passacaglia and Fugue (May 9 at 4 PM EST). Please visit our website for information on programming and registration, and stay tuned for announcements about our 2021-22 season.
ONEcomposer is supported by the Central New York Humanities Corridor, Cornell Rural Humanities' Rural Black Lives initiative, Engaged Cornell, and the Cornell Council for the Arts.